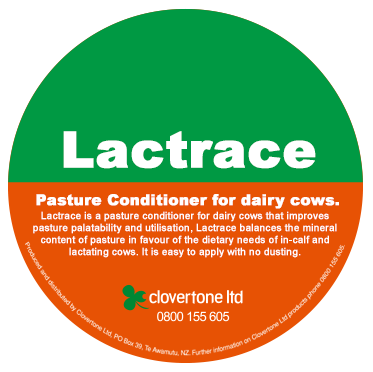 Lactrace is a pasture conditioner for cows formulated to improve pasture palatability and provide the optimal balance of minerals for in-calf and lactating  cows.  Lactrace will significantly lift copper, selenium, cobalt and iodine levels in pasture. The complex blend includes magnesium and sodium which inhibit the luxury uptake of potassium.
Lactrace can be sprayed on pasture by boom spray, rosette or fine droplet application. By ground application, one litre of Lactrace is mixed with ten litres of water. Recent applications of Lactrace at 10 litres per Ha have shown outstanding results.  Lactrace boosts the nutrient content in your pasture just when your in-calf cows need it most.
Farmers report fewer downer cows, fewer cases of retained membranes and more cows quickly hitting peak lactation after using Lactrace.
Phone 0800 155 605 for technical and pricing information or arrange an on-farm visit from your local Clovertone consultant.