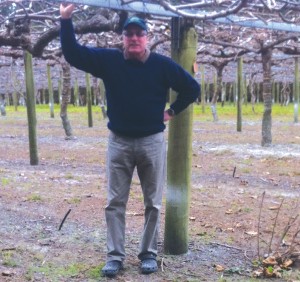 After three seasons of using Kiwiguard and Clovertone Plant Food 5-4-11, the average kiwifruit size on Howard Pegden's orchard has gone up and rejects have reduced from 18% to only 7%.  When Howard first used Kiwiguard, he was looking for an effective product for bird control.  These days he calls the combination of the two products 'the full package.'
"We've had no major pest problems since 2010," he confirmed.  "Contractors frequently comment on the dark green leaf colour and large leaf size in the orchard.  The general health of our plants has also improved.  As a result we're producing a lot more fruit – and the fruit is consistently bigger than it used to be."
Production on the 4.5 ha orchard has risen from an average of 42,000 trays to 63,000 with fruit size increasing from 33.4 to 28 and a TZG of 67.  Reject levels were sitting around 18% in 2010 and are now as low as 7%.
"Kiwiguard is a very user-friendly product," said Howard.  "The contractors like using it. There's no exclusion period and it has a more natural way of working than some other alternatives."
After successfully trialling Kiwiguard in 2011, Howard decided to give Clovertone's liquid Plant Food 5-4-11 a go later that season.  "We saw a quick response in leaf colour and growth.  Between them the two products seem to balance the nutrients out.  They work well together."
Products in the Clovertone range have a dual mode of action and supply all the nutrients for optimal plant growth in a liquid form while also supporting the growth of Mycorrhiza fungi in the soil.
These fungi have a symbiotic relationship with plants, directly feeding nutrients in their most easily absorbable form to plant root systems in exchange for carbon. The result is lower inputs which offer sustainable additional productivity without the extra cost on the orchard's bottom line.
Kiwiguard and Plant Food 5-4-11 are allowed/included in Zespri's crop protection standard.  KiwiGuard costs $130/ha based on a monthly application of 20 litres/ha (exclusive of GST and delivery).