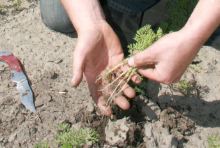 Christchurch carrot grower Nigel Greenwood is so confident about the quality of his produce that
he has stopped applying fungicides to his crops – and this will be his fourth season without them. "I haven't looked back," he confirmed.
When asked to explain the difference between his production system and that of other growers, Nigel is pretty clear that the difference lies in the Clovertone products he uses.
Nigel first applied Clovertone soil conditioner eight years ago and has used Clovertone Plant Food 5-4-11 over the last four seasons.
Since 2005 Nigel has almost halved his original solid fertiliser program of 250T/ha superphosphate and 250T/ha potassium chloride and has gradually moved towards gentler, more natural inputs.
He currently applies 150kg/ha of guano phosphate and 150g/ha of potassium sulphate alongside three or four applications of Clovertone Plant Food 5-4-11.
"The first year I tried Clovertone, crop yields increased by more than 60% – from between 65-80T/ha to 100-120T/ha. About three seasons in, one block yielded 180T/ha, it was almost embarrassing. I ended up selling off the surplus for canning."
Crop quality has also improved and Nigel now expects to sell at least 65% of his crop as marketable carrots each season. "I've been stoked by the upturn in yield and quality and I've spoken to a lot of growers about the products since. I've reduced my base fertiliser costs and the carrots are really sweet and tasty."
After his success with Clovertone and Plant Food 5-4-11, Nigel has turned to Cloverguard, another product from the Clovertone range, to protect his next carrot crop from grass grub damage. Patches of damage appeared in the oats he had planted as a break crop giving Nigel the heads up that there was grub around. "It only takes one bite to turn a good carrot into a bad one, so I didn't want to take any chances." After hearing reports of great results from other South Island growers who had used Cloverguard to tackle grass grub in pasture, Nigel is confident the product will do the trick.
Nigel is currently completing a course on sustainable farm management. His aim is to create a healthy legacy for his son and future generations. "I want to leave the land in better condition so that it's even more profitable when I hand it on."
Clovertone, Cloverguard and Clovertone Plant Food 5-4-11 are included in the complete Clovertone programme for horticulture.