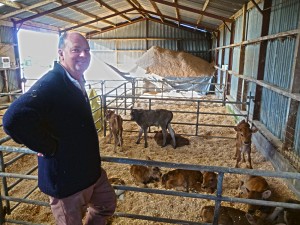 Steve Davis' 60 ha dairy unit in the Waikato had been in a solid fertiliser program for as long as he could remember. In June 2011 he decided to try a different approach using Clovertone – a nutrient rich soil conditioning solution – and ActiveN – a true liquid nitrogen – to support pasture growth in one paddock.
Based on the sustained results from this trial, Steve has decided to replace his solid fertiliser program with Clovertone products on his whole farm from Autumn 2013
Results from the three year trial on Steve Davis' 60ha Waikato dairy farm show that a paddock treated with Clovertone and ActiveN produced 21% more grass than areas treated with solid fertiliser – at less than half the cost of conventional inputs.
Clovertone & ActiveN $246/hectare
Solid fertiliser & urea $457/hectare
Plant  Root Depth
Clovertone treated paddock had increased root depth of 25% over solid treated paddock.
No Solid Fertiliser for 3 Years
After 3 years without inputs of any phosphate and potash in the trial paddock, the Olsen P levels have been maintained at a higher level than the control that got high levels of phosphate inputs.
Worm Numbers
Clovertone paddock had 575 worms per SqM.
Solid paddock had 200 worms per SqM. A 187% increase in favour of Clovertone.
Worm Size
Clovertone paddock worms were size 6-7.
Solid paddock worms were 4-5. A 50% increase in favour of Clovertone.
Discussion of Trial Results
Looking at the soil test results the farm owner, Steve Davis is mystified about how the Clovertone paddock has maintained its P levels at a higher level than the control despite NO P being applied in the Clovertone mix for more than three years. One reason for this lower level of P in the solid fertiliser, may be the fact that 75-90% of the added P is precipitated by metal-cation complexes and rapidly becomes fixed in soils. As well, we surmise that Clovertone is causing an increase in phosphate solubilising bacteria and/or mycorrhiza fungi activity in the soil. The total P of 3470 in the Clovertone paddock supports this possibility. (We will be conducting further research into this). Total P on control is 3150. With such high levels of P, why would anyone recommend more P be required?
For the past 18 months, the farm has now converted totally to Clovertone and ActiveN. The only solid fertiliser now used is on the Control paddock for the purpose of continuing the trial.